So over the off-season I got some new items that I have to blubber about as they made my addiction to racing... well, more addicting. I encourage you share with the group your new toys.
Let me start with Brakes:
Speed Bleeders!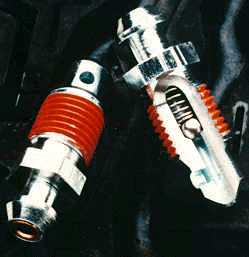 I love these little buggers. I had to change my MC and a front caliper so I was going to be introducing air into the system against my will. With the speed bleeders I was able to bleed each corner 14 times by myself all in under 1 hour. How badass is that?! Brake pedal?... Rock hard.
Caveat: Most people complain that these leak over time. Yes they do, eventually they need to be removed, cleaned and have the magic goo reapplied to their threads and baked in the oven for 10 minutes (or what I did, buy a spare set). I also bought the stainless steel ones for the front calipers.
Two problems though!
1: They do not need to be tightened down by the incredible hulk, it can ruin them. Tell whomever is helping you work on your car about this.
2: THEY ARE NOT METRIC! WTF right?! Anywho, I had to get 1 American sized tool, not the end of the world.
Brake Pads!
I am trying a new compound from Raybestos (well, it's actually old but new to me). Many of you are familiar with the famous ST43 (aka: Miracle Pad) but I couldn't make that work on the CRX
so I bought the ST42.
Perfect pad. Still wears like iron but never a single jutter and they bedded quickly and easily.
At The Ridge, with us getting 5 x 30 minutes sessions it gave me some really good insight into how my brake pads would function in a race. They worked brilliantly. I will be buying and competing on this compound again, even though it's a small fortune.
Driver Toys
1: Sliding tethers on my HANS. I did not know what I missing. Definitely worth the $40.
2: New Helmet: HJC Si-12. Under 3lbs, fits great and the HJC smoke/mirrored visor is just tinted 'enough'.
3: GPS lap timer: AIM SOLO ($399). It does some data acquisition, GPS lap timing, best laps, track overlays etc. They also have a new model called the DL that plugs into an OBD2 computer and gets RPM, MPH and other data and works with the AIM Smarty Cams, allowing the user to overlay their data on their video. The DL I think is $699 (I do not have that model, just the base one)
And of course, VIDEO!
More camera's Colin?! Aw Hell yeah!
Drift Innovation HD170 Stealth
It records in 1080p (like the GoPro) but it has a built in LCD screen, rotatable lens, remote microphone and an RF remote control, PLUS it's only $160. For a few dollars more you can get the extended battery, Microphone and a Panavise suction cup mount.
What cool new toys did you get over the winter?